Machines
Top of the line high production machines
Makes buttons fast and easy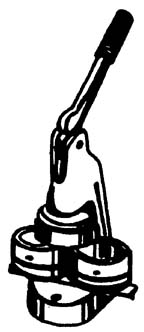 Sliding Dies ~ Capable of making 500 buttons per hour with an experience operator, this machine will make 200 or more per hour for the beginner after a little practice.
This is the type of machine we use for our rentals and our production operation. Our oldest machine is over 15 years old and has probably made 150,000 or more buttons without any problems. Just a little lubrication once in a while.
Available in sizes from 1 1/4" to 6" but the most popular sizes are 2 1/4" - 2 1/2" - 3" with the 2 1/4" being the most popular. The 3" size is very popular for making photo buttons.
Operator loads and slides each die once and pulls the handle twice for perfect buttons everytime.
$499.95
With heavy duty cutter
Used Machines ~ When available, you can purchase a machine traded in by one of our customers for a higher production machine or one of our retired rental machines. Price depends on condition of the machine.

Rental Machines ~ Want to make your own, but not make an investment in a machine? Perhaps rental is the way to go.

Parts Prices
Machines
Basic | Metal Economy | Flip Dies | Sliding Dies
Order Now
| Home